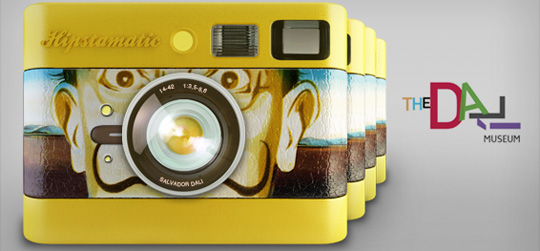 If you haven't already added the fabulous 'Hipstamatic' app to your iPhone then I absolutely insist that you do. Hours of fun can be had creating amazing looking snapshots to share with your friends and colleagues either via email or with the online community.
Two sides of the Hipstamatic story
In fact, the original Hipstamatic – an entirely plastic camera (yes, even the lens) was the brainchild of brothers' Bruce and Winston Dorbowski who, a couple of years after leaving art school , decided to build a camera that would be affordable to everyone, including children, so that they could record those oh so important memories for posterity. In the early 1980's, from their riverside cabin in Merrill, Wisconsin the boys crafted the first of their Hipstamatic 100's as the camera became known.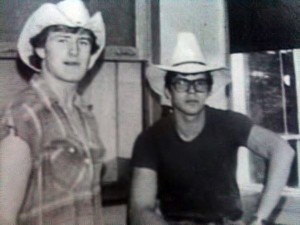 Those Crazy hippies on the River
The brothers', known by the locals as 'those crazy hippies on the river', hoped these funky little cameras would turn into a money-making venture, selling to the likes of K-Mart and Woolworth. However, sadly, the two never managed to get the manufacturing facility off the ground as shockingly in June 1984 they became the tragic victims of a drunk driver not far from their home in Merill.
Now almost 30 years later the Hipstamatic iPhone app is inspiring a whole new generation to get out there and enjoy the creativity and simplicity that the old instant camera now offers in digital format. Just check out the Facebook Page (https://www.facebook.com/hipstamatic) and you'll see just what I mean.
So, what's so great about the Hipstamatic?
For a start there's no heavy cumbersome old camera equipment, no additional film, no waiting for the film to develop – it's INSTANT gratification – Now we all love that! And if that's not enough it's extremely versatile with many equipment categories that include a variety of lenses, as well as film and flash alternatives.
The Standard Equipment package that one receives once they upload the Hipstamatic App to their iPhone includes:
Williamsburg
The Portland
Shibuya
Camden
The Mission (new category)
And there's also currently a Limited Edition category available including Salvador 85 lens and Dali Dreamscape camera case!
Each of the above Hipstapaks offer lens, film and flash options. Within these categories one may choose from black & white or colour film and tinted flash units. Why not mess around with the different film and lens formats to see how incredibly innovative and unique your shots you can be.
To alter the settings on the Hipstamatic one simply taps the relevant tool icon (lens, film roll, flash, camera, or shopping basket) on the touchscreen of the iPhone and swipes through the many options. Any item not included in your standard Hipstamatic app may be purchased immediately utilising the shopping basket and used within moments of uploading.
Of the standard lenses mentioned above I have tested the following:
I purchased the BlacKeys B+W Ultrachrome film – a thin white border surrounds your cool and moody images with this film option, and the BlacKeys Supergrain gives an eerie feel to your shots with its ultra-high contrast film type. I love the colour films provided with the Hipstamatic but for me the B&W films are perfect for extra mood and ambience.
Also of interest if one is wishing to attain that authentic looking vintage shot then try the Shibuya Float Film it brings warm tones to your picture with the added effect of age throughout the image. Two comparison's below shot on Float film.
Each lens matched with a different film will reveal a quite distinct and interesting result so enjoy swapping lenses and film to see what experimental work you can come up with. If you feel it worthy, one may upload their images to the Facebook Hipstamatic website, or enter The Big Hipstamatic Show at hipstamaticapp.com – here every month there is a competition to find out what people think the best Hipstamatic shots are. Just upload your image and ask friends and colleague to tweet your photo.
There are so many shooting options available with the Hipstamatic, and I image that the creators will continue to bring out limited edition Hipstapaks as they come up with more creative and innovative ideas. The Hipstamatic App is a lot of fun and you really can generate some beautiful, unique and inspiring images with it. So get out there and start snapping away with all the other Hipstamatic shooters out there and keep the creativity and the conversation flowing.
Real or fraud – you choose?
It's a fraud…. or could it really be the truth? What I'm referring to is the article I recently penned above, regarding the history of the Hipstamatic iPhone App. In fact the very existence of the Durbowski Brothers from Wisconsin apparently seems to be a big ole' LIE. Though I'm kicking myself for not doing my research more thoroughly, it seems that many others just like myself were taken in 'hook, line and sinker' by the moving saga of the sadly departed creators of the non-existent Hipstamatic 100. For you see, there is no other mention of the Durbowski's, or the in-famous instant camera anywhere on the internet apart from the Richard Durbowski Facebook page, and the Hipstamatic.com website. It seems all to have been a very clever and effective marketing ploy.
My partner did some research in relation to when Richard Dorbowski's blog first went live and it appears to be backdated rather than showing a live post. Looking through the Wayback machine archive there is no information regarding this blog dating back to 2007. There is the possibility that it went live a lot later than the author claims.
So, is this a case of clever viral marketing that is solely designed to play on the consumers emotions, or is it actually based in truth? Either way it was meant to create hype that would sell more of their product and have consumers buying on the basis of a 'feel good' story.
In truth, the Hipstamatic camera app. was designed by Ryan Dorshorst and Lucas Buick of Synthetic Infatuation. And interestingly, if one reviews the LoFi interview they did in January 2010, then one would believe that all that was said about the Durbowski's is in fact true, for they are certainly sticking to their story. To read the entire interview go to: https://lifeinlofi.com/2010/01/07/qa-hipstamatic-the-story-behind-the-plastic-app-with-the-golden-shutter/
True or not, I still love the Hipstamatic iPhone app – it's a wonderful piece of snap happy, instant gratification software. So, thank you Ryan and Lucas for the hours of fun and inspiration to create.