Have you ever been all gung-ho about the prospects of a particular photo shoot, loaded up all your great equipment and set out with the very best of intentions only to have the whole thing fizzle out? Well, that about sums up how our day went on Sunday. The grey mood of the day seemed to overshadow everything, nothing seemed to please either of us, no matter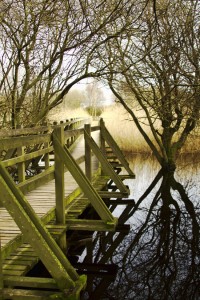 where we stood, which camera we used, the filter, the settings, even the composition never seemed to hit the mark.
But the day was not completely lost. We took a leisurely stroll on Shell Beach where Deana captured a snap of the wooden walkway with a backdrop of beautiful golden grasses. After about an hour our appetite's got the better of us so we went in search of a traditional English Roast lunch, and once consumed found we were greatly cheered from the experience!
St. Aldhelm's Chapel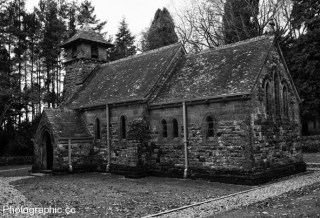 It was on the way home that we drove down a narrow lane heading towards 'Post Green', in Lytchett Heath. There we found a delightful chapel named St. Aldhelm's. It's so small in fact that if you blinked an eye you would have missed it whilst driving by. Hidden behind the hedgerow and trees this picturesque location holds within its walls a beautifully maintained little piece of English heritage. Buried in the churchyard is Robert, 2nd Baron of Rockley, along with various other family members. Unfortunately, the church was locked (a sign of the times) and we could not find much information on St. Aldhelm's except for what Jude Tarrant has about
the chapel's stained glass windows
on her website. but we managed to get
some pleasing shots of the church
, and it was wonderful to walk around the grounds and imagine what kind of life the Baron and his family enjoyed in this beautiful part of Dorset over 100 years ago.
Directions to St. Aldhelm's Chapel
[mappress mapid="4″]