Though reports of heavy rainfall and generally dismal weekend weather were forecast we had already decided to spend a couple of days visiting relatives in Rayleigh, Essex.
Though now known as a town, many years ago Rayleigh was just a small village and market town as well as being a civil parish in the Rochford district of Essex.  It is said that Henry VII built 'Park Lodge', now Rayleigh Lodge as a grand hunting lodge to entertain his Anne Boleyn.
There are just a handful of historical landmarks in Rayleigh which include the Tower Mill that was built in 1809 and is now a museum run by local volunteers.  Just around the corner is Rayleigh Mount where once there stood a Domesday Castle erected by Sweyne of Essex and said to have been occupied between the 11th and 14th centuries.  And, at the top of the high street stands the Holy Trinity, an Anglican church which is currently being refurbished and due to be completed sometime in April when we will return to photograph the end result. 
The church director and rector, the Reverend Mike Lodge gave us a short run down of the church's history and of the great efforts being made to restore it to its former glory.
So, on Saturday morning we made our way to the coast to Leigh on Sea, or rather the older part rather aptly named 'Old Leigh' – A truly authentic and traditional English seaside fishing village known for its Cockle Sheds as well as for the local fish merchants who supply the freshest catch in the area.  Quiet in winter but heaving with sun-seekers during the summer months visitors can enjoy a walk along the seafront, and a tasty snack accompanied by the perfect 'cuppa' from one of the many tea-rooms in the vicinity.
Sadly, when we arrived the weather was a depressing grey and the sky a mottled blown-out white but still we managed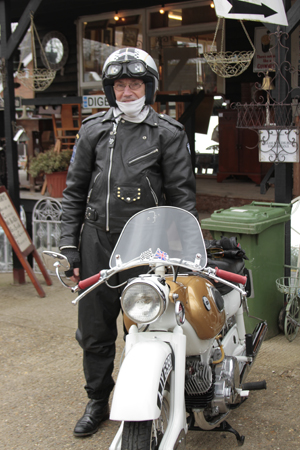 to find a few photo opportunities and were particularly drawn to some of the old moored boats that dotted the mud flats of the Thames Estuary. That's one of the wonders of photography, it doesn't have to be a standard object, subject matter including old rope, colourful fishing nets, driftwood, and photographing ancient mooring chains can all create interesting stock photography whilst keeping your shutter finger in practice.
There's a rather unassuming old fishing boat that sits on the mud flats at low tide, her name is Endeavour and in fact she is one of the last few remaining fishing boats that were utilised in rescuing soldiers from the beaches at Dunkirk in June 1940 – what a wonderful piece of history to come across!
Sunday and another grey old day but off we set in search of more photographic inspiration heading this time to Battlesbridge, another small village located on the banks of the River Crouch.  Our original intention was to photograph the river, boats, water mill and surrounding area but the greyness and chill of the day rather changed all that.
Hogs and Choppers at Battlesbridge
Battlesbridge attracts many visitors on the weekends due to the abundance of antiques dealers who sell their second hand wares from indoor and outdoor stalls, all within a short walk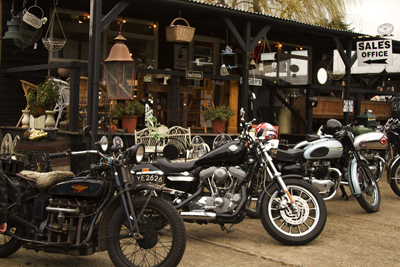 of the car park.  There is no shortage of photographic inspiration and as we roam around the various stalls we stumble right into a 'Bikers' gathering.  It appears the Battlesbridge Motorcycle Museum (1984) have arranged their annual charity ride to raise funds for the local air ambulance service.  Bikers of all ages and shapes and sizes are hanging out admiring their beautiful metal beasts – Amazing vintage machines built by Triumph, Bonneville, Vincent, Norton, Harley Davidson and BSA are proudly lined up side-by-side as the riders gear up for departure – Perfect timing – they saddle up and head out!
What a great way to spend a weekend – you never know what you'll walk into, or stumble upon!
Hope you enjoy the blog and the images.
Directions for photographing at Old Leigh, Essex
[mappress mapid="3″]